Getting pumped about a new custom Florida home built by ICI Homes in Settler's Landing? You should! We are too! Not to mention, all the amazing outdoor recreation activities right in your backyard.
Settler's Landing is located in Nocatee, one of the United States' top-10-selling master-planned communities.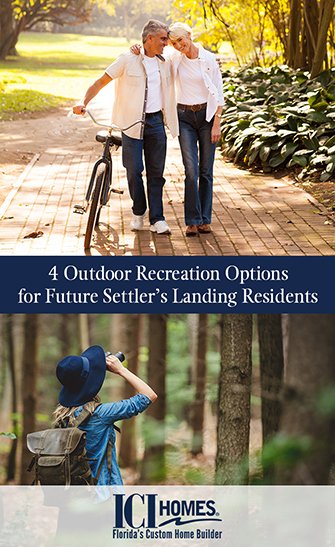 Nocatee is conveniently sited south of metro Jacksonville and north of historic St. Augustine on Florida's northeast coast. It's renowned for amazing resident amenities, a Town Center retail, dining and services enclave, and neighborhoods to suit every kind of future homeowner.
As one of Nocatee's longtime preferred builders, ICI Homes is proud to be building in one of Nocatee's newest and most anticipated neighborhoods — Settler's Landing. We're featuring eight floor plans that range from 2,469 to 3,564 square feet, so contact us now to get a head start on your new custom Florida home here.
While you anticipate exploring our Settler's Landing model homes — we know, waiting's the hardest part — we're sharing some cool info about some of the many recreational opportunities new Settler's Landing residents can anticipate once they're in residence.
The St. Johns County Chamber of Commerce has teamed up with The Guana Tolomato Matanzas National Estuarine Research Reserve, a 74,000-acre reserve just southeast of Nocatee, to compile a list of 25 local, outdoorsy experiences in Ponte Vedra, Nocatee's hometown. It incorporates five categories — hiking, biking, bird watching, kayaking and fishing.
Three of the experiences involve Nocatee facilities in the hiking, biking and kayaking categories. So, here's how future Settler's Landing residents can get outdoor-active right at home.
Hiking
The 2.400-acre Nocatee Preserve literally sits next door, just east of the greater Nocatee community. The PARC Group, Nocatee's developer, donated the land to St. Johns County as a passive public park.
Numerous recreational activities can be enjoyed here, but the 3.5-mile paved trail that runs north-south will take you past wetlands, coastal forests, creeks and alongside the Tolomato River, which also functions as the Atlantic Intracoastal Waterway.
Biking
See above.
The Nocatee Preserve's 3.5-mile trail hosts runners, hikers, strollers and cyclists with aplomb. Plus, the Preserve's size and the length of the trail ensures you'll likely hear more birds chirping than other people chatting.
Whether hiking or biking, future Settler's Landing residents can head just a few miles north on Crosswater Parkway, then turn left on Nocatee Landing Trail, which leads to both the Nocatee Paddle Launch on the Tolomato, and to the Nocatee Preserve's southern trailhead.
The northern trailhead is located behind Ponte Vedra High School.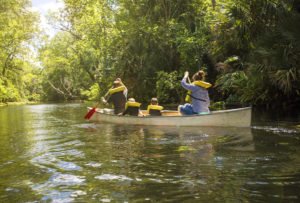 Kayaking
You guessed it — the Nocatee Paddle Launch is an excellent place to put in for scenic paddles along the Tolomato and its tributaries.
A note about bird watching
While the Chamber's and The GTM Research Reserve's list didn't cite specific birding hot spots in Nocatee, rest assured you'll see plenty of species as you hike, bike and kayak these preserved waterways and landscapes.
The birds like it here too!
Ready for your Nocatee lifestyle? Talk to ICI Homes here.