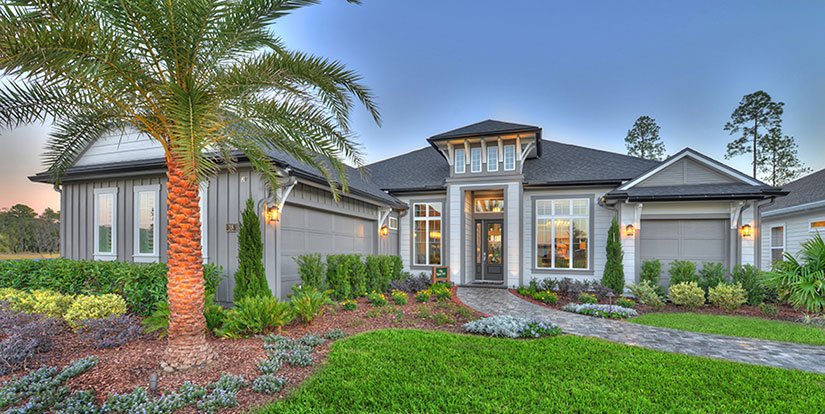 New Homes in Ponte Vedra, FL at Nocatee
ICI Homes is proud to be a preferred builder in Nocatee for over a decade. Nocatee is one of the top-selling communities in the U.S.A., and we're pleased to be able to bring our award-winning selection of homes to Nocatee's various neighborhoods.
Nocatee's top-notch amenities, incredible location, and close-knit community feel combined with ICI Homes' extensive library of customizable floor plans is the perfect match for your new home in the Ponte Vedra area. From new custom low maintenance townhomes to lavish estate-sized homes, we have built dream homes for a hundreds of happy homeowners from a wide array of lifestyles and backgrounds. We're ready to help you find your dream home next!
Homes that Meet Your Exact Needs
ICI Homes is renowned for their quality, craftsmanship and value. With a 40+ year track record of success, ICI Homes is a frequent recipient of top national, regional and local awards for innovative design and quality construction and is consistently ranked in Builder Magazine's Top 100 Builders. Privately owned and headquartered in Daytona Beach, Florida, ICI Homes develops, builds and operates several communities throughout Florida.
Because ICI Homes has built thousands of homes, from affordable villas to breathtaking mansions, ICI Homes benefits from a volume purchasing advantage that ensures your home is built with the best quality materials at the greatest value for your money. Building a brand-new, one-of-a-kind home easy and surprisingly affordable.
Townhomes, Single Family & Estate Homes for Sale, Ponte Vedra, FL
Homes & Townhomes from the $400's
Homes Range from 1,600 to Over 4,000+ sqft.
Traditional Architectural Styles
Award-winning New Home Designs
Completely Customize Your Single-Family or Estate Home
Water & Conservation Views Available
Build Any of these Custom Homes to Suit or Buy a Townhome at Nocatee in Ponte Vedra