Searching for a new custom Florida home can feel like a treasure hunt in a robust real estate market. But we at ICI Homes have a great tip for buyers interested in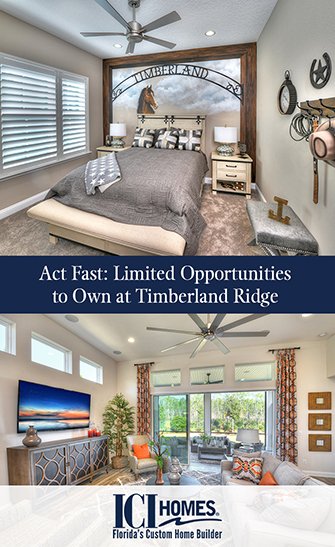 Nocatee, the master-planned community south of Jacksonville that's perennially among the top-10 sellers in the U.S.
A few lots, plus our awesome model home, remain available at Timberland Ridge! This Nocatee neighborhood is one of many in which we're active — as one of Nocatee's preferred builders — and Timberland Ridge offers a unique setting and atmosphere within Nocatee's larger environs.
Here's how you can snare one of our final few home sites in Timberland Ridge.
Why Nocatee is popular
In case you're unfamiliar with Nocatee, it's conveniently sited between Jacksonville and St. Augustine, and large enough to support many unique neighborhoods, many of which also boast their own resident amenities. Nocatee also is plenty large enough to support amazing amenities available to all residents.
Think splash parks. athletic fields, miles of trails for fitness and electric-cart use, playgrounds, dog parks, special events — the list seemingly doesn't end. And you're only 10 minutes from Ponte Vedra's renowned Atlantic beaches.
So how big is Nocatee? Approximately 14,000 acres, with 60 percent of those dedicated to preservation and conservation land. As of this writing, 300 acres are dedicated to parks.
Why Timberland Ridge's remaining home sites are an advantage
Simply put, they give you a head start over other home buyers, but especially in Nocatee's in-demand neighborhoods.
Timberland Ridge sits in Nocatee's northwest quadrant, among conservation forests and serene ponds. This gives it a secluded feel while still positioning it near all those resident amenities. There's even a dog park and playground exclusively for Timberland Ridge residents.
Nabbing a lot here puts you in one of Nocatee's premier new neighborhoods. Residents are only minutes from Interstate 95 and A1A, Florida's Atlantic coast highway, which fosters a secluded suburban feel.
Here's another advantage: building gives you exactly what you want in a new custom Florida home. You get to choose your floor plan, tweak it with help from one of our talented designers during your complementary customization consultation, and select your own design elements such as finishes, paint colors and cabinetry.
A newly built home in Timberland Ridge also gives you a great new custom Florida home built with the latest technology, materials and today's on-point designs. You get what YOU want in new construction, rather than having to find a resale you like and won't have to renovate.
How to score a Timberland Ridge home
Simply click here, then scroll down to view the floor plans available for Timberland Ridge's 50- and 60-foot lots. Then, schedule a VIP appointment when you're ready to learn more!
Another tip: don't overlook the current Timberland Ridge model home. It's a great opportunity to score an exquisitely designed home with premier finishes and extras! Once the community is closer to being completely sold out, we'll offer it for sale. Stay tuned!
Ready for your Nocatee lifestyle? Talk to ICI Homes here.