Long one of the Sunshine State's premier master-planned communities, Nocatee recently garnered more favorable notice.
In August 2020, Newsweek featured a list detailing the best place to live in every U. S. state, and Nocatee claimed that honor for Florida.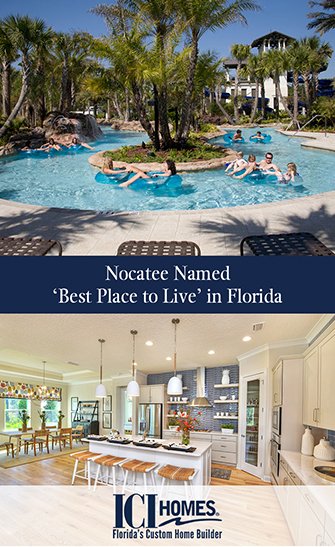 Sited in Ponte Vedra in the northeast part of the state, just south of booming metro Jacksonville and just north of historic St. Augustine, Nocatee regularly makes annual lists of top-10 selling communities nationwide.
If you live in Nocatee, you might not require a well-known national publication to validate the community's strengths and amenities. But, if you're considering building or buying a new custom Florida home here, that kind of validation should get your attention.
Keep reading for more on why Nocatee earned its "Best Place to Live" designation.
What the data says
Newsweek cited statistics from Niche's 2020 list of the best places to live in each state. Niche is a Pittsburgh, Pennsylvania-based company that filters stats, reviews and other data to rank institutions such as colleges and universities, industries and geographic locations.
In the case of 2020 top-ranked places to live in each state, Niche personnel examined factors such as housing costs, educational systems, population and income.
Nocatee scored the honor for Florida based on these stats (at the time of this writing):
A population of 13,266
A median home value of $371,300 (82-percent owned)
A median rent of $1,689 (18 percent rentals)
A median household income of $115,250.
Why people say Nocatee is the best place to live
Nocatee boasts plenty of room to roam. It encompasses approximately 14,000 acres, with 60 percent of those allocated to preservation and conservation and 300 acres of parks.
Such size accommodates many unique Nocatee neighborhoods. Most boast their own resident amenities, but Nocatee is renowned for its overall resident amenities. It even has its own Town Center, which is the community hub for services, retail, dining and entertainment options — and not one, but TWO grocery stores.
To top that, there are not one, but TWO Nocatee splash parks. On the southern end of the community, Nocatee Landing provides residents with direct, non-motorized watercraft access to the Tolomato River (also the Atlantic Intracoastal Waterway).
Nocatee residents also enjoy athletic fields, miles of trails for fitness and electric-cart use, playgrounds, dog parks and Ponte Vedra's beautiful Atlantic beaches; the latter are only 10 minutes away.
ICI Homes at Nocatee
ICI Homes is proud to be among Nocatee's preferred builders, and as of this writing we're active in several neighborhoods — Timberland Ridge, as well as Anthem Ridge, Freedom Landing, Heritage Trace and Liberty Cove in Crosswater.
Hint: act fast if Timberland Ridge calls your name. Limited opportunities remain to build in this quiet, forest-surrounded neighborhood conveniently nestled on Nocatee's northwest side. Timberland Ridge is perfect for folks who enjoy a more suburban atmosphere.
Ready for your Nocatee lifestyle? Talk to ICI Homes here.