So you've moved into your new ICI Homes home at Nocatee, and you realize— GASP — you've never explored nearby St. Augustine… We'll forgive you! But, if you're never been to St. Augustine, we encourage you to do so. It's the oldest city in the United States, and a beautiful, entertaining place too. Our suggestion for what to do first? Attend a historic weapons demonstration at the Castillo de San Marcos.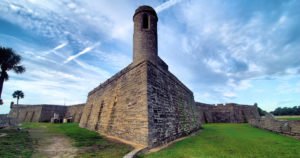 We'll show you the way.
Make the Castillo your first stop
St. Augustine is only 19 miles south of Nocatee, which you likely know by now is one of the country's perennial top-10 selling communities. Zoom down Interstate 95 or take the prettier, slower drive down A1A, Florida's Atlantic coast highway.
Do your research online or make a few calls, but our advice is to head straight to the city's Downtown Parking Garage. It's one-stop parking for a daily fee, adjacent to the historic district, and the convenience can't be beat. Plus, the Visitor Information Center is literally next door. Those helpful folks will hook you right up with info and maps.
Tell them you're headed to the Castillo first. It's right across the street.
About the Castillo
Now a National Monument overseen by the National Park Service, the Castillo de San Marcos is perhaps St. Augustine's signature historic site. The city was founded on September 8, 1565 by Spanish admiral Don Pedro Menéndez de Avilés, and the Castillo was built to defend the colony more than a century later, on the western shore of Matanzas Bay.
Construction began in 1672, utilizing coquina limestone quarried from nearby Anastasia Island. It was completed in 1695.
Today, the thick-walled Castillo de San Marcos is the only 17th-century military installation in the U.S., and the oldest composed of masonry. It has survived sieges, battles and hurricanes.
Be there when the cannons fire
If this doesn't awe you, we're not sure what will.
The top level of the star-shaped Castillo is its gun deck. To date, there are 36 historic bronze and iron cannons of various sizes displayed around the Castillo's gun deck.
Those guns aren't fired, but three replica iron cannons on the northeast gun deck are fired during weekly — usually Friday, Saturday and Sunday — demonstrations.
It's amazing to watch what's required to handle, load and fire these big guns. There's no digital keyboard or controller. Skilled National Park Service rangers or volunteers in 1740s Spanish military dress greet visitors and describe cannon warfare before firing the guns.
Hint: it's loud. Don't hesitate to plug your ears and cover the kids'.
Night firings happen occasionally. Check the National Park Service calendar for details.
Ready for your St. Augustine-adjacent Nocatee lifestyle? Talk to ICI Homes here.