Did you know Nocatee is the region's first electric vehicle approved community? Even if you didn't, you now know what that means: you must have an electric cart! We're kidding, of course. Only acquire an electric cart if you and your household truly want one. What this DOES mean is that Nocatee is equipped with tons of special eco-friendly pathways for electric carts to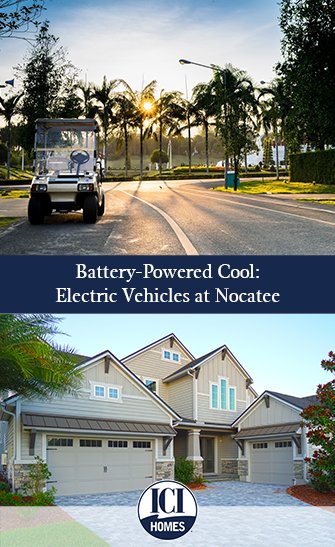 travel to and from amenities and shopping areas. So, they're useful items in an amenity-filled community with the infrastructure to support them.
Have an ICI Homes home in Nocatee's Timberland Ridge neighborhood and need to pick up the kids at the playground? Why fire up the car for such a short errand? Imagine jumping in your electric vehicle and zipping back and forth with minimal fuel burned and a breeze in your hair.
Bonus points if you exchange waves with neighbors piloting their own electric vehicles.
Here's why you should consider some battery-powered cool at Nocatee.
Electric cart = golf cart
Someone will come along and change the design and nomenclature, but for now, think "golf cart" when you hear the term "electric vehicle."
They're the four-wheeled, battery-powered, low-speed electric vehicles that transport people and light equipment and are familiar to most of us. They can be customized, and come in many sizes.
Where the electric vehicles roam
ICI Homes customers who acquire an electric vehicle will have plenty of places to use them. Miles of 16-foot cart paths traverse Nocatee's neighborhoods and commercial areas. The paths — all multi-use — include 1,200 feet of bridges. Cyclists, hikers, runners, walkers and dog walkers all share the paths with electric vehicle users.
When we say you can go almost anywhere in Nocatee in an electric vehicle, we're serious. You'll see electric vehicles parked in designed spots in the Town Center shopping area, and outside the community's many amenities such as Splash Water Park, and neighborhood parks.
Don't be shocked to see electric vehicles in the drive-thru lines at popular spots such as Starbucks. Admit it, you'll do the same thing.
Just be sure you're using one of the many EV (electric vehicle) approved roadways. The main roadways do not permit electric carts.
We have the garage for your electric vehicle
Yes, we do. Here's how.
ICI Homes is proud to be one of Nocatee's select builders and we're actively building new custom Florida homes in numerous Nocatee neighborhoods.
As of this writing, we're working in the Crosswater community's Liberty Cove, Heritage Trace and Freedom Landing neighborhoods. We're also building in The Colony at Twenty Mile and in The Settlement at Twenty Mile, and in Timberland Ridge.
Many of our floor plans at Nocatee allow for three-car garages or compact garage space in a two-car garage. Know what else would go great there? An electric vehicle.
And we'll help you fit it in thanks to our priority on customizing plans to customer needs, often at no or low extra costs.
Ready for your Nocatee lifestyle? Talk to ICI Homes here.