Nights of Lights is one of the brightest holiday traditions in the state of Florida.
From the Saturday before Thanksgiving through January 31st each year, millions of tiny white lights illuminate St. Augustine's historic colonial district and waterfront once dusk falls. It's a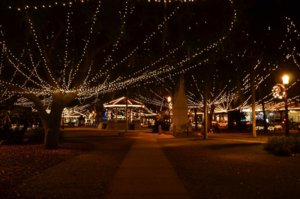 beautiful way to enjoy the Ancient City no matter how you celebrate the end-of-year holidays, plus you'll find deals on hotels, restaurants and tours.
If you've built a new custom home with ICI Homes in Nocatee, heading down to enjoy Nights of Lights is a snap.
One tip is to pace yourself. Nights of Lights lasts a month and a half, so not everyone must rush into town at the same time. Weekend nights can be crowded, but a week night might be the perfect alternative. Check the city's official visitor websites for a full calendar of Nights of Lights events.
When the time comes, pack a toasty jacket and good cheer. We'll give you the skinny on how to enjoy St. Augustine's holiday light show.
The logistics
It's helpful if you've been to St. Augustine's historic distract before, during the day. You'll have a better idea of where things are and what you want to see, but a prior visit isn't totally necessary.
The easiest place to park is the historic-district parking deck on Cordova Street, off West Castillo Drive. It's directly east of the Castillo de San Marcos and offers multiple levels of spaces.
If you're enjoying the lights on foot, stroll main streets such as St. George Street, King Street and Avenida Menendez, then check out smaller streets such as Aviles Street, the nation's oldest street.
Many restaurants, shops and bars will be open later than normal to offer holiday shopping and dining specials. Try a grazing strategy so you can see as many light spectacles as possible: appetizers at a fun bar, a yummy dinner elsewhere and dessert from an ice cream or sweet shop. Advance dinner reservations make this strategy run smoother.
How to see the lights
We vote for walking if your group is appropriately shod and willing. You'll see many remarkable holiday vistas that you'll miss by riding in a tour vehicle or your car.
But it's up to you!
We know that tromping around the nation's oldest city with little ones in tow probably won't last long. And that driving narrow, centuries-old streets isn't a great option either.
But the same touring options you have during the day, also are available during Nights of Lights.
Consider a trolley or horse-drawn carriage tour from one of St. Augustine's tour companies. Even better, get on the water. Try a nighttime cruise on a tour boat, tall ship, charter boat or even a yacht-for-hire. Some companies include complimentary drinks, hot chocolate and tea.
Do this, regardless
It's the perfect last look before driving back to Nocatee.
Cross the Bridge of Lions onto to Anastasia Island. Safely turn around and re-cross the Bridge. The entirety of St. Augustine's holiday splendor will be in full view, and someone who's not driving should be clicking away on their phone cam.
Bonus points if you walk the Bridge of Lions' sidewalks! Pause near its apex, before or after the drawbridge, and take all the selfies you want with Nights of Lights in the background.
Ready to live your Nocatee lifestyle? Talk to ICI Homes here.