We're talking to all of you who've built a custom new home with us at Nocatee!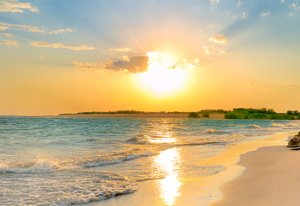 We at ICI Homes are proud to be a preferred builder at one of the nation's top-10 selling master-planned communities, and if you live at Nocatee, you know how awesome its resident amenities are, and how convenient its Ponte Vedra location south of metro Jacksonville, can be.
But what if you'd like to catch a gorgeous Florida sunset somewhere other than your Nocatee backyard? And you'd like it framed by a large body of salt water with food and drink nearby?
Grab the gang, hop in a vehicle and head east to A1A, Florida's Atlantic coast highway. Cruise south toward historic St. Augustine — less than 50 miles away.
Once there, take your pick and enjoy one of these three sunset venues near St. Augustine.
Cap's on the Water
You'll reach Cap's first, if you're heading south from Nocatee.
Cap's on the Water is a low-key, yet refined restaurant that sits on the east side of the Intracoastal Waterway. Both its food and live oak-shaded location are "Old Florida" themed. You can walk a small pier that extends over the water, but bring your appetite and dine on Cap's outdoor deck.
Choose between deck tables or seats at the oyster bar. There's indoor seating for rainy days or cooler months. Stroll the beach just outside the deck (especially at low tide) if you're waiting on a table and the sunset. But do not miss the latter. It's spectacular here.
Cap's is on Myrtle Street, a quiet residential street off A1A, a few miles north of Vilano Beach.
Speaking of…
Vilano Beach Pier Pavilion
Drive approximately two more miles south, and you're in Vilano Beach, a true Old Florida beach town on the north side of the St. Augustine Inlet.
Turn right, and the modern Francis and Mary Usina Bridge soars over the Intracoastal Waterway toward downtown St. Augustine. Which, by the way, is in plain view across Matanzas Bay.
You want the Usina Bridge's squatty predecessor. A remnant of it is now a St. Johns County Park that juts into the Bay. The Vilano Beach Pier Pavilion is a magnet for fishing fanatics and pedestrians from Vilano Beach's main commercial thoroughfare.
If you're there on the first Saturday of a month, enjoy the Vilano Beach Sunset Celebration from 3 p.m. until dusk. Extras include arts and crafts vendors, and music and dance performers.
Once the sun begins its descent, look west from the Pier, across Matanzas Bay. Sunsets over the historic St. Augustine skyline, with its discernible landmarks, can't be beat.
Saltwater Cowboys
A definite Florida fish camp.
Founded in 1963, Saltwater Cowboys is located south of St. Augustine, off Dondanville Road on Anastasia Island, between St. Augustine Beach and Butler Beach.
It features Old Florida seafood — oysters from Anastasia Island's own Salt Run, in season — but you can go with Cracker-style favorites such as fried alligator, frog legs and chicken.
Cowboys overlooks Intracoastal Waterway marshes and small docks. And very picturesque sunsets. It's approximately 27 miles from Nocatee, and 7.6 miles from downtown St. Augustine.
Ready to live your Nocatee lifestyle? Talk to ICI Homes here.