Looking for your new custom Florida home in Nocatee? We at ICI Homes offer yet another great reason to check out this top-selling community near Jacksonville — its network of fitness trails.
More than 28 miles of interconnected pedestrian, cycling and electric vehicle trails and paths connect Nocatee neighborhoods and adjoining conservation areas.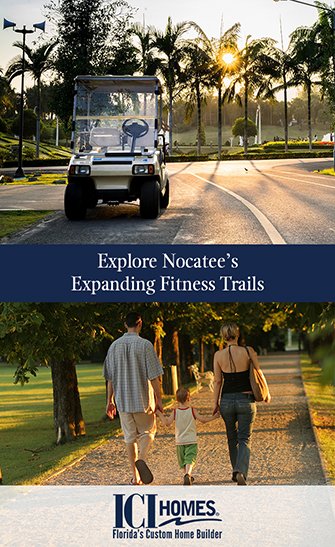 And, as new Nocatee neighborhoods continue opening, so do new fitness trails and paths.
There's even a map available to help new and prospective Nocatee residents discover all the ways to get outside and moving. A recent update to the map includes those latest trails and paths, and we'll show you where to find it — and ICI Homes at Nocatee — below.
A bird's-eye view
As of this writing, there are 11 fitness trails and paths in Nocatee, which is located just south of metro Jacksonville and just north of historic St. Augustine.
It's a great location enhanced by the community's trail system. Wide, paved paths wind through neighborhoods, along community streets, and past the Nocatee Town Center shopping, dinning and entertainment district, and one-of-kind waterparks. Nocatee's fitness trail system includes the Greenway Trails, more multi-use trails for exploring the Nocatee Greenway's 5,000 acres of parks, preserves and conservation areas.
Some Nocatee fitness trails run side-by-side, featuring a separate, wider path for electric carts and bicycles, and a smaller companion trail for pedestrians. Just be mindful of safety when crossing roadways and intersections, and passing other trail users.
Electric-cart-friendly
The ability to enjoy electric golf carts on Nocatee's fitness trails is a major draw for many potential residents. Nocatee was northeast Florida's first community approved for electric-cart use. It's a fun, fuel-efficient method to run errands, head to Town Center for lunch, or to ferry a load of soaked kids back from the waterparks!
Where to find us (and the map)
Ready to explore Nocatee's expansive fitness trails? Grab the map here.
Ready to find a new custom Florida home at Nocatee? ICI Homes is one of Nocatee's preferred builders and we're active in multiple Nocatee neighborhoods, with more on the horizon.
West End is a fast-growing new neighborhood just west of Nocatee Town Center. ICI Homes is building amazing townhomes here and we offer multiple two-level floor plans ranging from 1,635 to 1,846 square feet. All townhomes offer three bedrooms and two bathrooms and start in the $400,000 range.
Three Nocatee fitness trails are near West End — the Peacock, Heron and Egret trails.
Settler's Landing is Nocatee's southernmost new neighborhood. ICI Homes is building spacious single-family homes on 60- and-70-foot lots. You'll find versatile four-bedroom, three-bathroom floor plans for each lot size.
And, yes — two of Nocatee's newest fitness trails, the Seagull and Spoonbill trails — connect right into Settler's Landing.
Ready for your Nocatee lifestyle? Talk to ICI Homes here.