Jacksonville home seekers, rejoice! We know exactly where to point you for that new family headquarters, retirement enclave or long-awaited dream abode.
Join us at Nocatee, perennially one of the United States' top-10-selling communities. It's located only a few minutes south of Jacksonville in Ponte Vedra, Florida, and it's an amazing place. Loaded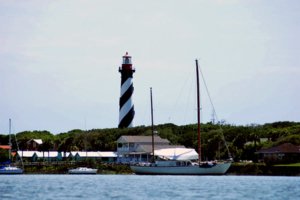 with resident amenities, Nocatee is huge yet distinct, and we at ICI Homes are proud to be among its elite group of preferred builders.
What does all that have to do with St. Augustine? The nation's oldest city is located a scant 19 miles south of Nocatee. St. Augustine's proximity to Jacksonville's booming southern communities — of which Nocatee is one — is a huge perk of living here.
In fact, Nocatee residents live conveniently between Jacksonville's big-city experiences to the north, and St. Augustine's historical treasures to the south.
So hop on Interstate 95, U.S. Highway 1 or A1A, the coastal highway, and make the quick drive down from Nocatee. While you're en route, we'll share four ways to get to know St. Augustine.
Castillo de San Marcos cannon firing
If you have time for only one activity on your first visit to St. Augustine, go to the Castillo de San Marcos. The circa-1672 fortress is the nation's oldest masonry fort (the city of St. Augustine was founded by Spanish colonists in 1565.) The Castillo and its little sister, the circa-1740 Fort Matanzas National Monument 14 miles south, are the world's only forts built of coquina, a coastal limestone you'll see everywhere on Florida's Atlantic coast.
Five times daily on Friday, Saturday and Sunday, Spanish Colonial re-enactors stage weapons demonstrations. This includes cannon and musket firing on the Castillo's northeast gun deck. The three-pound, cast-iron cannons used for demos are replicas, but there are more than 36 historic big guns exhibited throughout the Castillo, many dating to the 17th century.
Go. Watch history come alive.
Eat at Osteen's
Cross the Bridge of Lions from St. Augustine's historic district and you'll be on Anastasia Island. Ahead on the right is Osteen's Restaurant, a small, cheerful white and blue building. It opened in 1965 and still serves fresh southern seafood, homemade side dishes and desserts.
Eat your fill of fried shrimp, fresh coleslaw and finally, gooey berry cobbler. But make sure you bring cash. Osteen's doesn't accept debit or credit cards.
Climb the St. Augustine Lighthouse
Leave Osteen's and head south on A1A. A few miles away is the St. Augustine Lighthouse and Maritime Museum. The circa-1871 lighthouse is 165 feet tall and contains 219 steps to the top, where the view in all directions is fantastic.
Of-the-era keepers' houses are preserved, and the maritime museum on-site showcases finds from ongoing marine archeology work on shipwrecks in St. Augustine waters.
Go on a ghost tour
Finally, end the night with a scare for yourself and your gang! The St. Augustine Lighthouse staff even offers a ghost tour, and so do many Ancient City tour companies. With six centuries of history, buildings, churches and cemeteries, there's plenty of fodder for ghost tales.
Research online or contact the St. Augustine Visitors Information Center (adjacent to the historic district parking garage) to find reliable tour operators.
Ready to live your Jacksonville-area lifestyle? Talk to ICI Homes here.