Would you move to a new community solely on the basis of its trail system?
"C'mon, you might say. "That's nice, but unnecessary."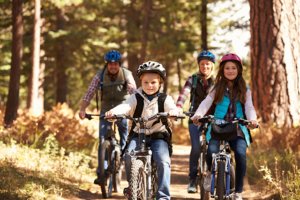 Not if you know about Nocatee, the 13,000-acre, master-planned development south of Jacksonville, Florida. It's the country's third top-selling community and nearly a small city unto itself. Size is a good thing, however, because among those thousands of acres is an awesome network of community fitness and hiking trails.
The Greenway Trails and fitness trails at Nocatee literally encompass miles and miles of access throughout the heart of Nocatee and its surrounding neighborhoods. They're open to all sorts of non-motorized foot and fitness traffic — dog walkers, stroller pushers, runners, hikers, bicyclists, skateboarders and, of course, walkers — and offer both residential and wilderness scenery.
Follow us for an overview to Nocatee's impressive Greenway Trails and fitness trails system.
What's the Nocatee Greenway?
The Nocatee Greenway is more than 5,000 acres of environmentally prized (read: pristine and protected) land. The Greenway Trails are linked to 330 acres of parks, plus common community areas such as Town Center — all of which can serve as starting points for planned or impromptu trail expeditions, depending where you live in Nocatee.
Aside from Nocatee's trail-connected parks, the Greenway incorporates recreational areas, wetlands and wildlife habitats. The nearby 2,400-acre Nocatee Preserve protects 3.5 miles of land along the Intracoastal Waterway. If you're looking to bike, hike or run off pavement, unpaved trails extend into this preserved acreage.
The Greenway Trails interconnect Nocatee neighborhoods with Greenway and Preserve recreational options. The trails themselves are multi-use and range from 16-foot paved paths to 10-foot paths for electric vehicles, and even to unpaved paths. The trails also encompass 1,200 feet of bridges, scenic stops with benches and viewing platforms.
And, did you know Nocatee is the first northeast Florida community to be Electric Vehicle-approved? You'll see Nocatee residents scooting everywhere in their custom cruisers — from the grocery store to the latest drive-through window!
Nocatee's fitness trails
Closer to Nocatee's residential areas, there are three distinct fitness trails mapped out for those who'd like to chart their activity mileage. These trails are of varying length and are color-coded on maps to illustrate their distances. They begin behind a Nocatee amenity icon — Splash Water Park — where permanent signage stands, and includes a complete map of all three trails. You'll also find parking and restrooms at this location.
The red Pelican Trail runs for 2.15 miles. The blue Heron Trail runs for 5.5 miles and the yellow Osprey Trail runs for 6.4 miles — approximately 14 miles of fitness routes! All trails contain mile markers so you'll always know where you are. The trails also provide exercisers with plentiful scenery changes. You'll pass Nocatee's distinct neighborhoods, under some of its shady live oaks and along some of its central streets.
Ready for your active Nocatee lifestyle? Come build with ICI Homes in these Nocatee neighborhoods — Siena at Town Center, The Outlook at Twenty Mile, Timberland Ridge and three Crosswater neighborhoods (Liberty Cove, Heritage Trace and Freedom Landing).