Looking for a new custom Florida home in metropolitan Jacksonville?
Come visit Nocatee, one of the United States' top-10-selling communities. It's located a scant 20 miles south of downtown Jacksonville, in Ponte Vedra, and offers amazing amenities, neighborhoods with timeless designs, and its own retail, dining and shopping hub.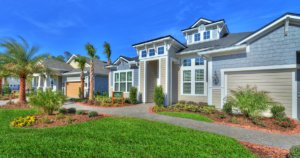 ICI Homes is one of the Nocatee's select builders and we're busy as bees here. As we write this, we're active in several Nocatee neighborhoods, but want to call your attention to one —Timberland Ridge.
It's located near Nocatee's northwestern border and offers a classic yet refreshing suburban lifestyle that's also a bit of a hidden jewel.
Here's a closer look at what's so appealing about Timberland Ridge.
What makes Timberland Ridge unique
Aside from the fact it's in a desirable, master-planned community like Nocatee, of course.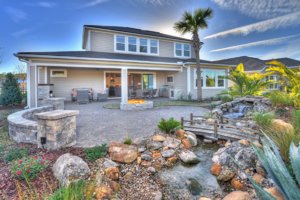 Timberland Ridge is a self-contained neighborhood, rather than a neighborhood in one of Nocatee's larger themed communities. It's set amid actual timber — conservation land — with ponds sprinkled throughout.
An expansive dog park and playground are sited near its entrance, and easy to reach from all parts of the neighborhood.
Residents also enjoy entree to other Nocatee neighborhood parks, including Cypress Park on Nocatee's west side, and Twenty Mile Park on its east side. You'll find more dog parks and playgrounds at each facility, plus pools, pavilions for picnicking, and event fields.
Timberland Ridge is located in Duval County. Its northwest Nocatee location makes it a commuter's and traveler's dream thanks to quick access to U.S. Highway 1 and Interstate 95, both of which lie just west of Nocatee.
What we do in Timberland Ridge
We build on 50- and 60-foot lots. Choose one of our generous floor plans as is, or ask us to help you tweak the one you like to your specifications. We've build custom Florida homes all over the state for more than four decades and are happy to help you get exactly the home you want, no matter your price range.
We invite all prospective customers to a complimentary customization consultation with one of our talented floor plan designers. That person will listen to your needs, likes and dislikes, then help you make targeted changes to one of our plans.
Either way, it's often at little or no cost to you. So don't be shy about asking for what you want!
You'll have plenty to choose from — six floor plans ranging from 1,789 to 2,562 square feet on 50-foot lots, and seven plans ranging from 2,446 to 3,196 square feet on 60-foot lots.
Ready for your Timberland Ridge lifestyle? Talk to ICI Homes here.