We're building one of our most popular homes, the Costa Mesa, in the Timberland Ridge neighborhood of Nocatee.
The floor plan, neighborhood and master-planned community, respectively, all are jaw-droppers on their own. Pair them and you have a dream scenario for anyone seeking a new custom Florida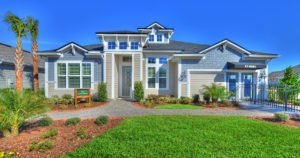 home in greater Jacksonville.
Always among the top-10-selling communities in the United States, Nocatee is located a scant 20 miles south of "JAX" in Ponte Vedra, Florida. It's beautifully sited among historic conservation lands. Not to mention, it features amazing amenities and is only minutes from the Atlantic Intracoastal Waterway and beaches. Nocatee residents can pop onto nearby Interstate 95 to the west, or A1A to the east, and get anywhere on Florida's northeast coast.
Timberland Ridge is one of Nocatee's neighborhoods in the community's northwest quadrant in Duval County. It's particularly cozy and all of Timberland Ridge residents can enjoy other Nocatee neighborhoods' parks and amenities — and vice versa.
That Costa Mesa, though. Allow us to tell you about it.
It's one of our top sellers
That's always a good sign! The Costa Mesa is a one-level, 2,565-square-foot plan with four bedrooms and three bathrooms. You'll find it available on our 60-foot lots in Timberland Ridge. It's one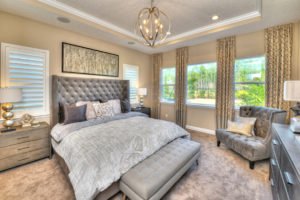 of our two model homes at Timberland, while the other is the 2,217-square-foot Serena, available on our 50-foot lots.
As of this writing, our Costa Mesa model is available for sale. However, if you're interested in living in an ICI model home, act fast — the Serena model has already sold.
Versatility is one of the major reasons the Costa Mesa is so popular wherever it's offered. Not only do you have the spacious four-bed, three-bath standard, you also have a flex room at the front that can serve as another bedroom, a home office, additional living space or what-have-you.
Another plus is the master bedroom at the back of the floor plan, away from other bedrooms and overlooking a quiet lanai.
The Costa Mesa's central living space is exactly that, central to the floor plan. The kitchen, dining and main living area divide two bedrooms, the flex room and a bathroom at the front of the house, from the owner's suite at the back. Additionally, a fourth bedroom and third bath are tucked off one side of the living area.
That open living space serves as the hub, with plenty of room to cook, eat and relax without unnecessary walls, odd corners and pesky doors. It also overlooks the lanai and Florida sunshine.
Did we mention the Costa Mesa's three-car garage? Now we have.
We tricked out the Timberland Ridge model
To show you how large it can live!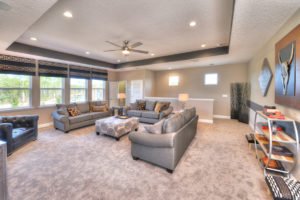 Here, our model sports an optional second level and additional 922 square feet. Scoot up the steps and find a game room, a fifth bedroom and fourth bathroom. It could certainly work as a suite for teenagers, adult children or in-laws.
Ready for your custom Florida home? Talk to ICI Homes here.