There are many benefits to large-tract, master-planned communities, but there's one key differential to a truly superb master-planned community — its natural resources.
Piggybacking hundreds of homes on a wide swath of land, without a natural feature within miles, isn't a community that sounds appealing to us. We at ICI Homes know this because we've built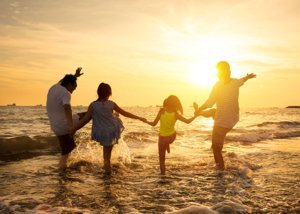 custom homes all over the state of Florida for more than three decades.
Fortunately, that's not the case at Nocatee, the master-planned development south of Jacksonville, Florida that's massive in every good sense of the word.
Incorporating more than 13,000 acres, Nocatee is the nation's third best-selling community. It's also well-appointed by Mother Nature. The Intracoastal Waterway and Atlantic Ocean beaches are mere minutes to the east. Nine parks and four dog parks are scattered through Nocatee's neighborhoods. More than 60 percent of its land will be preserved, and its mature tree canopy — live oaks, longleaf pines and palms, among other — is prodigious indeed.
Follow along and we'll tell you why nature is an excellent reason to build a new custom home with us at Nocatee.
Water calms and refreshes
Pocket lakes and ponds are all over Nocatee. Some sport decorative fountains while others ripple from the wind, a visiting bird or passing kayaker. Ponds near woodland areas appear a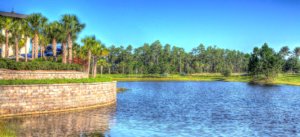 atmospheric inky color thanks to tannin and resin runoff from trees.
Listening to a soothing fountain spray while sitting on your Nocatee back porch or patio is a great way to de-stress. Plus, the surfaces of ponds, lakes and creeks are always in motion.
More active water lovers will find Splash Water Park the perfect all-in-one place to cool off. Pools, slides, a zipline and a tubing river that winds through the park are easy ways to spend a day. Nearby, the Nocatee Swim Club offers an eight-lane, junior Olympic competition pool.
At the Nocatee Kayak Launch near Nocatee Parkway — the community's four-lane, east-west thoroughfare — boaters in non-motorized vessels can access the Intracoastal Waterway and explore miles of creeks, estuaries and other coastal trails.
Nature as noise buffer
Many Nocatee neighborhoods are sited in the midst of, or surrounded by, native Florida woodlands. You'll see countless soaring live oaks, coastal pine varieties, palms and palmettos. Lots are carved to protect and preserve the tree cover, which also acts as a noise buffer.
Road noise, neighbor noise (kids playing, pool parties, etc.), and typical sounds of residential life get knocked down and muted by forested areas that separate streets and groups of homes. In many Nocatee neighborhoods, trees combine with ponds and lakes to reinforce nature's sound proofing.
Natural backdrop for recreation
Thanks to its Atlantic Coast location, Nocatee is prime ground for natural recreation opportunities. A total of 2,400 acres have been designated as the Nocatee Preserve. This tract borders a 3.5-mile section of the Tolomato River (which also serves as that particular section of the Intracoastal Waterway).
The Nocatee Preserve is a great place for canoeing, kayaking, birding and boating. Horseback riding and hiking are other favorite activities. The preserve has been donated to St. Johns County as a public passive park.
As of this writing, ICI Homes is building in several Nocatee neighborhoods! Talk to us here about building your custom home with us.