If you're pursuing a new custom home in Ponte Vedra, we at ICI Homes can build one for you in not one but SIX neighborhoods in the awesome master-planned community of Nocatee.
Nocatee is located just south of metro Jacksonville and convenient to everywhere on Florida's northeast Atlantic coast. Plus, it's is annually among the nation's top-10 selling communities. It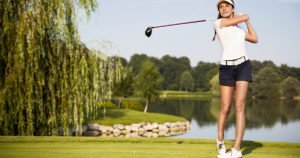 boasts a depth and breadth of resident amenities rarely found elsewhere, and we're pleased to be among its group of select builders.
You'll find ICI Homes in Timberland Ridge, the Settlement at Twenty Mile, the Colony at Twenty Mile, and these neighborhoods in the Crosswater community — Freedom Landing, Heritage Trace and Liberty Cove. We build your home your way, with a company-wide emphasis on customization. But once your happily moved in, there are two places in Nocatee's hometown that help tell the story of Ponte Vedra, Florida, that we think you should check out. Plus, they're fun places to visit and explore.
Here're our tips for visiting the Ponte Vedra Inn & Club and TPC Sawgrass.
Ponte Vedra Inn & Club
This is one of Florida's oldest and most esteemed resorts. It's not a mega-structure that dwarfs everything around it. Instead, the Ponte Vedra Inn & Club oozes understated, casual elegance with an air of history.
The Inn & Club first opened in 1928. It's located at 200 Ponte Vedra Boulevard in Ponte Vedra Beach, only 12 miles north of Nocatee. Drop by the original Inn building — look for its black, yellow and white signs, and spouting fountain — for a leisurely walk through its public areas.
It's a step back in time with beamed ceilings, cozy fireplace and comfy armchairs and sofas. Dine in one of its restaurants, wet your whistle at the venerable Tavern bar in the lobby, and ramble through its gift shop.
The Inn & Club also features two golf courses, including the historic Ocean Course. They offer a busy year-round schedule of weekly and seasonal events for guests and visitors.
TPC Sawgrass
Just as the Ponte Vedra Inn & Club is one of Florida's iconic resorts, so is TPC Sawgrass one of its iconic golf courses. And not only one of Florida's top courses, but one of North America's and the world's top courses.
That's no hyperbole. Each year, TPC Sawgrass annually hosts THE PLAYERS Championship, popularly known as the PGA TOUR's "fifth major," and PGA TOUR headquarters are located nearby. It's at 110 Championship Way in Ponte Vedra Beach, only 10 miles north of Nocatee
What's here for you? The beautiful TPC Sawgrass clubhouse is open to the public, with daily tours available and a golf pro shop to shop. The PGA TOUR's Performance Center at TPC Sawgrass also boasts myriad instruction options. And, with two courses on site — Dyes Valley and THE PLAYERS Stadium course — there are tee times available. Just anticipate the greens fees. This isn't your usual public course.
Ready for your Nocatee lifestyle? Talk to ICI Homes here.