Interested in an ICI Homes floor plan at Nocatee?
Now's a great time!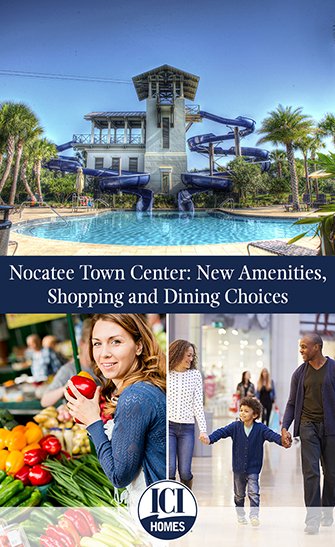 In addition to a new custom Florida home by one of the state's foremost builders, in one of the country's most sought-after communities, there's even more cool happenings afoot in Nocatee these days.
This master-planned community only 20 miles south of booming Jacksonville, in Ponte Vedra, is annually one of the United States top-10 selling communities. It's set amid lush coastal forests near the Atlantic Intracoastal Waterway, with beautiful Atlantic beaches only minutes away.
New neighborhoods continually come online here, and ICI Homes — one of its select builders — is currently active in several Nocatee neighborhoods.
But, Nocatee also brings amenities in ways that few other developments can.
That's what we'll discuss here. So grab your beverage of choice and continue scrolling as we detail exciting additions to Nocatee's Town Center — the community's gathering, shopping, dining and necessities hub.
Not one great water park, but two
Nocatee Spray Park is open!
It opened in March 2019 south of Town Center, as the second water park at Nocatee. Its older sister, Nocatee Splash Park, remains as popular as ever, and only short walk or electric golf cart ride away.
Nocatee Spray Park is anchored by a shallow yet huge 17,000-square foot pool that surrounds a four-story playground. Grab the bathing suits and tackle those slides, tunnels and other fun obstacles while constantly being sprayed with cooling water.
Also on the premises: Serenity Bay with its beach and beach volleyball, Scuttle Cove with its tot-sized spray park for little ones, and Paradise Bay with its (dry) playground. Next door is the new Nocatee Station Field, which will host community events, including the monthly farmers market.
Innovations in grocery shopping
Nocatee Town Center soon will have a second grocery location and it definitely will be unique.
Nocatee residents already enjoy the largest Publix grocery store in northeast Florida. Now, Nocatee Town Center is expanding across Crosstown Parkway, and one of its anchors will be the first Publix-owned GreenWise Market — an organic shopping experience — in northeast Florida.
The GreenWise Market is scheduled for a 2020 opening.
More new dining choices
Joining GreenWise Market in the expanded Nocatee Town Center in 2020 will be one of the Florida-founded, First Watch breakfast and lunch restaurants, and Clean Juice,
an organic juice bar owned by Nocatee residents.
Back across Crosstown Parkway, Panera Bread joins the Town Center dining lineup in late 2019.
Where to find ICI Homes in Nocatee
To the south of Town Center, we're in the three Crosswater neighborhoods of Liberty Cove, Heritage Trace and Freedom Landing.
North of Town Center, you'll find us in two of Nocatee's Twenty Mile neighborhoods — the Settlement, and the Colony.
Finally, seek us out in Timberland Ridge, with its modern take on suburban living.
Ready for your Nocatee lifestyle? Talk to ICI Homes here.