You might know the master-planned community of Nocatee is one of the nation's perennial top-10-selling communities. But, did you know these facts and figures associated with it? We at ICI Homes are proud to be among Nocatee's select group of builders. And we're here to contribute some cool Nocatee trivia.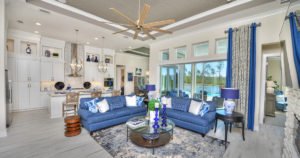 Located a scant 20 miles south of metro Jacksonville (26 miles from downtown), Nocatee provides residents with unparalleled amenities, natural resources and recreation opportunities, plus in-community shopping, dining and services.
If you're seeking a new custom Florida home south of Jacksonville, you can't go wrong with Nocatee. It's minutes from Atlantic beaches to the east (like, five minutes!), and from Interstate 95 to the west. Pair that with a beautiful setting among coastal forests, marshes and streams, and a new home at Nocatee is hard to beat.
But you knew all that, especially if you're a prospective home buyer. Allow us to quiz you on what you might not know about Nocatee.
What's in a name?
Let's begin with the community's distinctive moniker. It's easy to sound out phonetically, but you might peer at it for a second, or wait for someone to volunteer its pronunciation if you haven't encountered the name before now.
It's Noc-A-Tee. As in, knock on a door, then a golf tee. But the name isn't merely original syllables strung together. It's actually a Timucuan Indian word for "peaceful river." The Timucuan were an ancient native people and likely among Florida's first residents. And there is a peaceful river nearby. It's the Tolomato River, which flows to the east of Nocatee and the Nocatee Preserve.
It's very big
Nocatee is tremendous in size, but that's a good thing. Not only does this provide more unique neighborhoods for new home buyers, it also includes sizable preserves that form natural buffers and keep existing natural resources in tip-top shape for generations of future Nocatee residents.
The specifics: Nocatee encompasses 14,000 acres, or 25 square miles. That's a lot of room to roam. Sixty percent of those 14,000 acres, or approximately 9,000 acres, will remain undeveloped for conservation purposes.
As of this writing, Nocatee boasts at least 10 parks and six dog parks scattered throughout the community. Many are outfitted with picnic areas, playgrounds (for dogs and people), rest rooms, swimming pools, sports fields, green spaces and more.
You'll also find four trails — the Egret (one mile), the Heron (5.5 miles), the Osprey (6.4 miles) and the Pelican (2.15 miles) — that wind around Nocatee. These are of varying widths and accommodate pedestrians, cyclists, runners, walkers and residents piloting electric vehicles.
ICI Homes is active in many neighborhoods near these amenities. Visit us in the Freedom Landing, Heritage Trace and Liberty Cove neighborhoods in the Crosswater community, the Colony and Settlement neighborhoods in the Twenty Mile community, and at Timberland Ridge.
Now that you're versed up on Nocatee trivia, are you ready for your new Nocatee home? Talk to ICI Homes here.