We're guessing one of the reasons you're interested in a new custom Florida home at Nocatee, is the community's amazing amenities.
Nocatee features miles of fitness trails, two water parks and splash parks, swimming pools, sports fields, event lawns, playgrounds, and dog parks. These and many, many more perks make this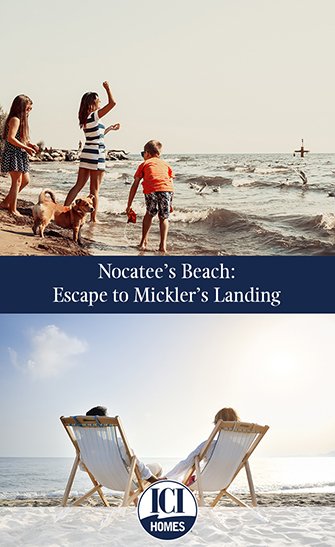 master-planned community a scant 20 miles south of Jacksonville, one of the country's top-10 sellers each year.
ICI Homes is proud to be one of Nocatee's longtime preferred builders. You'll find us building dream homes in multiple neighborhoods here.
We're also guessing Nocatee's proximity to Atlantic Ocean beaches might be another reason it has your attention.
For the curious, Nocatee does sport its own beach. You'll find it at Nocatee Spray Park, where a sandy offshoot called Serenity Bay offers cabanas and beach volleyball in a lovely, resort-style arrangement.
But if you're seeking sand dunes and salt water, you'll have to find the ocean. Follow us.
This way, please
If you're new to Nocatee, with moving boxes piled around the house, you earn a mulligan! The beach rightfully might be far down your current to-do list. If you've been here a while and still haven't made it out to the beach, here's your chance to remedy that omission.
The closest beach option to Nocatee is Mickler's Beachfront Park — or, more popularly, Mickler's Landing — a mere six miles away.
To get there, head east on Nocatee Parkway, which turns into Palm Valley Road. When you reach the intersection with Mickler Road, fork right onto Mickler and follow it to A1A, Florida's Atlantic Coast highway, also known here as Ponte Vedra Boulevard.
When the traffic light at A1A turns green, cross the highway and you're at Mickler's Landing, a picturesque St. Johns County beach park.
Soak in the sun and salt water
Mickler's Landing (pronounced Mike-ler's) was founded by a Mickler family member in the early 1930s. A fishing pier was built at this location that later succumbed to 1940s hurricane damage. But the site had become popular for local beach-goers, and Mickler's Landing became the first public beach park in Ponte Vedra Beach.
It's still popular! Arrive early in the day if you want to snag a parking spot. The walkover to the beach leads you past majestic sand dunes, to what is often a swirl of creamy white sand sometimes mixed with pink coquina accents.
Full facilities will keep you and your family comfortable — restrooms, grills for those lunches and birthday celebrations, showers, and a handicapped-accessible pathway to the beach. Mickler's Landing also is dog-friendly, so bring the family pooch (and leash, water and doggy snacks).
What to do? Lounge away the hours. Whittle down that list of books and podcasts you've been waiting to dig in to. Go fishing, surfing, shelling, paddle boarding or boogie boarding. You can even go horseback riding if you obtain the proper passes from St. Johns County government.
Ready for your Nocatee lifestyle? Talk to ICI Homes here.