More ICI Homes homes are coming to Nocatee, the popular master-planned community nestled between Jacksonville and St. Augustine on Florida's northeast Atlantic Coast.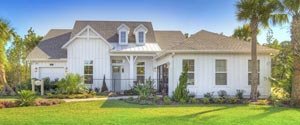 ICI Homes is among the preferred builders preparing to open some of Nocatee's newest neighborhoods — collectively known as Seabrook — and is building in two Seabrook neighborhoods, Palm Crest and Coral Ridge.
It all means prospective buyers soon will have model homes to tour in one of the United States' most sought-after communities. It's an all-around win for future residents eager to live in one of the Sunshine State's fastest-growing regions.
Read on for more about ICI Homes' newest opportunities in Nocatee.
Why Nocatee?
Located in Ponte Vedra, Nocatee annually is one of the nation's top-10-selling master-planned communities. Its new neighborhoods are in demand, and the Seabrook collection offers many choices.
As for location, Nocatee's is splendid; only six miles from Atlantic beaches and minutes from Interstate 95, Florida's east-coast artery. Its resident amenities are legendary — TWO water parks, an ever-expanding, centrally-located shopping, dining, and entertainment hub, miles of multi-purpose fitness paths, and a beautiful setting amid conservation land and wetlands.
Green spaces and parks are scattered throughout Nocatee. Each neighborhood grouping has access to community parks, swimming pools, dog parks, and playgrounds that are unique to those neighborhoods.
Lastly, did you know Nocatee was the first northeast Florida community to be certified electric vehicle friendly? Bring the golf cart too!
Palm Crest and Coral Ridge at Seabrook
The new Seabrook neighborhoods are located in Nocatee's southwest quadrant. They're surrounded by conserved coastal forests and ponds and will contain their own amenity center called Seabrook Park. It's scheduled to open in 2024 with a swimming pool, playground, and dog park for Seabrook pooches.
Model homes in Palm Crest are taking shape and interested buyers can choose from six ICI Homes floor plans. All contain four bedrooms, three bathrooms, and three-vehicle garages.
They range from the 2,469-square-foot Arden to the 3,196-square-foot Palos Verdes. The Arden, Davenport, and Costa Mesa are one-level homes. The Victoria, La Mirada, and Palos Verdes are two-level homes.
Coral Ridge is the other Seabrook neighborhood where ICI Homes are at work. If you're seeking a larger home for your family, a retirement idyll, or a multigenerational home, Coral Ridge might be the perfect answer.
ICI Homes' five-floor plans here are roomy and versatile, beginning with the 2,813-square-foot Egret VII and ending with the 3,564-square-foot Brooke. The Egret VII and Costa Mesa II are one-level homes. The Marsala, Sonoma, and Brooke are two-level homes. As in Palm Crest, all Coral Ridge homes contain a minimum of four bedrooms, three bathrooms, and three vehicle garages.
Register your interest in Coral Ridge here. Or contact ICI Homes' online sales team for more information on both new neighborhoods.
Ready for your Nocatee lifestyle? Talk to ICI Homes here.