Want some outdoor living inspiration for a new custom Florida home at Nocatee?
Check out ICI Homes' models at the The Colony and The Settlement.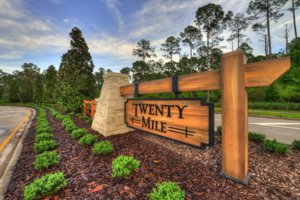 These two neighborhoods are among the newest in Nocatee's Twenty Mile community — a series of curated homes and amenities carefully sited among old live oaks, pines, palms and ponds on a swath of historic land in Nocatee's northeast corner.
The setting is quietly spectacular, and each neighborhood maximizes those natural surroundings. Yet Nocatee — one of the United States' top-10 selling
master-planned communities — is minutes away from any convenience. It's located in Ponte Vedra, only 20 miles south of bustling Jacksonville, and a hop, skip and bike ride from Atlantic beaches.
ICI Homes is one of Nocatee's select builders, and we'll bet our Aiden model in The Settlement and the Arden model in The Colony will send you to your smartphone or note pad to capture ideas.
The inspiration never stops. Come see how the Aiden and Arden can help you realizeyour own great outdoors.
Maximize your view at the Aiden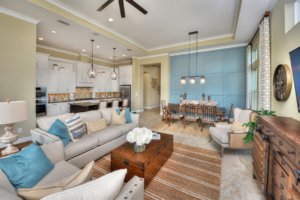 Enjoy both models' interior spaces as you arrive or leave. You'll be drawn through open, easily navigable living areas while bedrooms, bathrooms and other rooms
are tucked away from traffic.
But it's the outdoors we're headed for.
The wide glass slider at the back of the 2,399-square-foot Aiden reveals an amazing view of The Settlement's pond. Visit in late afternoon and you can imagine the sunsets over the water.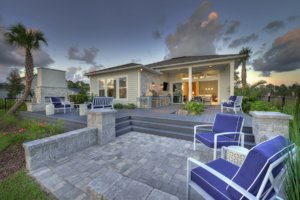 The outdoor living space — technically an extended lanai — is grounded by spacious decking. It's rimmed by a summer kitchen, a sheltered dining area, a fountain
with plantings, and — to the right — ANOTHER seating/sunset-viewing area off the Aiden's owner's suite that includes an outdoor fireplace.
It's all safely framed by dark metal fencing that doesn't block the views.
The best part? Use as little or as much of the Aiden's inspiration in your own new ICI Homes home at Nocatee. No matter what you decide, you'll significantly
expand your year-round living space with even the simplest outdoor seating and lounging space.
Pull it together at the Arden
ICI Homes' 2,469-square-foot Arden model in the neighboring Colony community employs the same open interior living spaces and private quarters, but centralizes its extended lanai.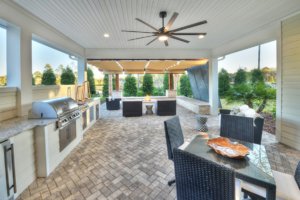 The Arden's entire space is covered — a great option if your household loves to live outdoors even during uncooperative Florida weather. Although most outdoor
furnishings are now moisture-impervious, shooing children inside and grabbing food and drinks to beat the rain and wind may be something you'd rather avoid.
Beyond the Arden's summer kitchen and dining area, padded benches and chairs cluster around a fire pit. That roof is more open-air — a loggia with heavy canvas panels overhead — and a large wooden screen and plantings lend privacy.
Time to start jotting down ideas! But hurry if you want to tour both models in person. As of this writing, our Arden home in The Colony is listed for sale!
Ready for that new custom Florida home? Talk to ICI Homes here.