Looking for a true neighborhood with timeless touches in the greater Jacksonville area?
Head to the master-planned community of Nocatee. It's on Jacksonville's booming south side, with enough distance from daily metropolitan bustle, but close enough to quickly access the city's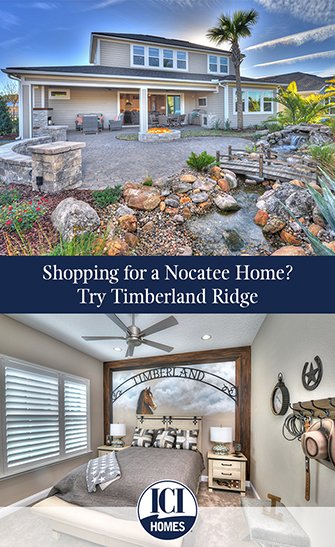 cultural, sports and recreational riches.
Why Nocatee?
Location is a big plus. Conveniently nestled between Interstate 95 to the west and U.S. Highway 1 to the east, beautiful Atlantic beaches are only 7.5 miles away.
Nocatee is perennially ranked among the nation's top-10 best-selling communities with good reason. Plentiful services, dining and shopping choices mean running errands without having to exit the community. New options arrive constantly and so do new neighborhoods such as Timberland Ridge.
We at ICI Homes are proud to be among Nocatee's group of select builders, and we're particularly excited about Timberland Ridge. It's in northwest Nocatee, in Duval County, and is perfect for folks seeking a traditional neighborhood with a modern twist.
Timberland Ridge lives up to its name
Timberland Ridge is anchored in coastal forest — all conservation land — with water features that reflect those lovely trees.
But, there are plenty of open spaces, notably the dog park and playground near its entrance.
One of Timberland Ridge's strong points is that it's not a division of a larger Nocatee neighborhood. It's all its own thing. But it's certainly not short on perks!
Aside from the dog park and playground, residents can enjoy other nearby amenities, including Cypress Park to the west, and Twenty Mile Park to the east. Expect pavilions for picnicking, event fields, pools and more playgrounds and dog parks.
In your own backyard, add fences if you like. Also note that many of our home sites are large enough for your own pool.
Sidewalks inside and outside Timberland Ridge make it easy to bike to the beach.
Ready for your Timberland Ridge lifestyle? Talk to ICI Homes here.