Come visit us at Nocatee, one of the United States' top-selling communities.
It's a must-stop for new-home buyers in northeastern Florida, and we at ICI Homes build in all three Crosswater neighborhoods here — Liberty Cove, Heritage Trace and Freedom Landing.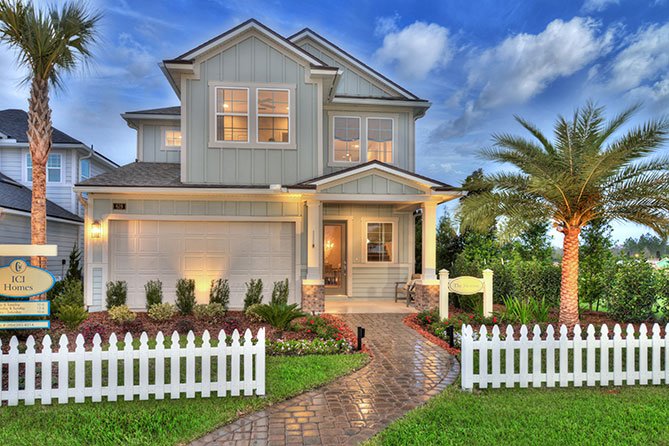 Today, we're introducing you to Liberty Cove, where our Monroe model packs potential into every inch of its 2, 281-square feet. It's a two-level home designed to invoke farmhouse tradition, and you can't miss it in Liberty Cove's model-home park. Look for the light blue exterior and bright American flag flapping at its entrance.
C'mon in!
Why we love it and you will too
The Monroe provides effortless living. Traffic flow through both its floors is intuitive. You won't find odd corners or useless spaces, but you will find standard, 10-foot ceilings and eight-foot doors on the first level.
Step inside a two-level entry that soars with openness and light. The staircase winds up to your right. A powder room for guests is tucked on your left. Dive left down the short hall beside the powder room, and you're in the laundry room/drop zone/garage access, all in one spot.
How easy is that?
Duck back to the entry. Keep moving! To the right is a large, windowed alcove that's perfect for formal or casual dining. To the left is an open kitchen that'll set your mouth watering. A gas cooktop with ventilation to the outside, comes standard,. So does a microwave/oven tower on another wall.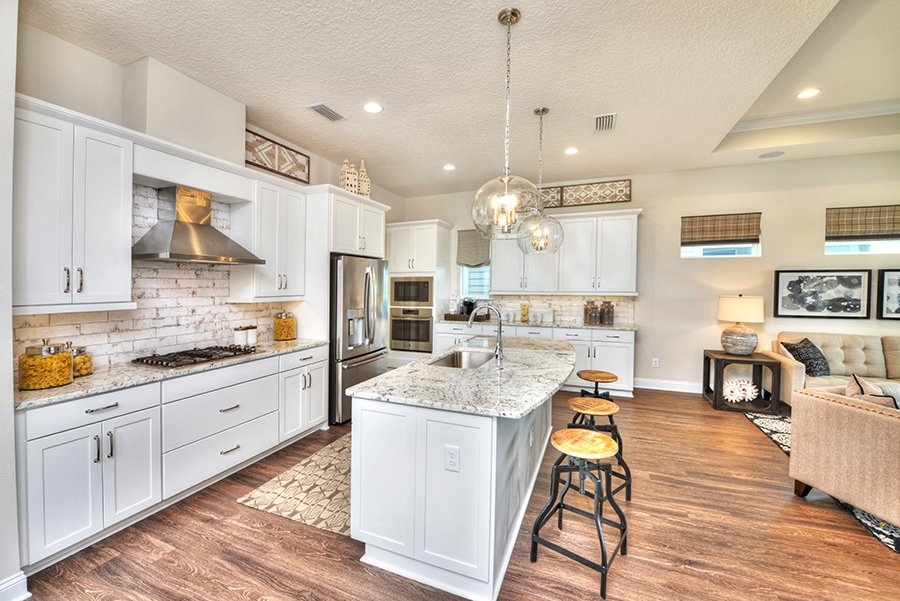 Imagine stocking those cabinets. Using the large island to stage buffets or impromptu drinks. Around the corner is a walk-in pantry with a solid door that can camouflage anything you don't want in view.
Get ready to be dazzled
Beyond the kitchen island is window-lit living space. Past its exterior wall of glass doors, the Monroe's outdoor living space overlooks a lovely pond instead of a neighbor's backyard. In fact, it's a Liberty Cove promise that no one's backyard view will be that of someone else's backyard. Every homeowner(s) can enjoy a view of water or conserved land!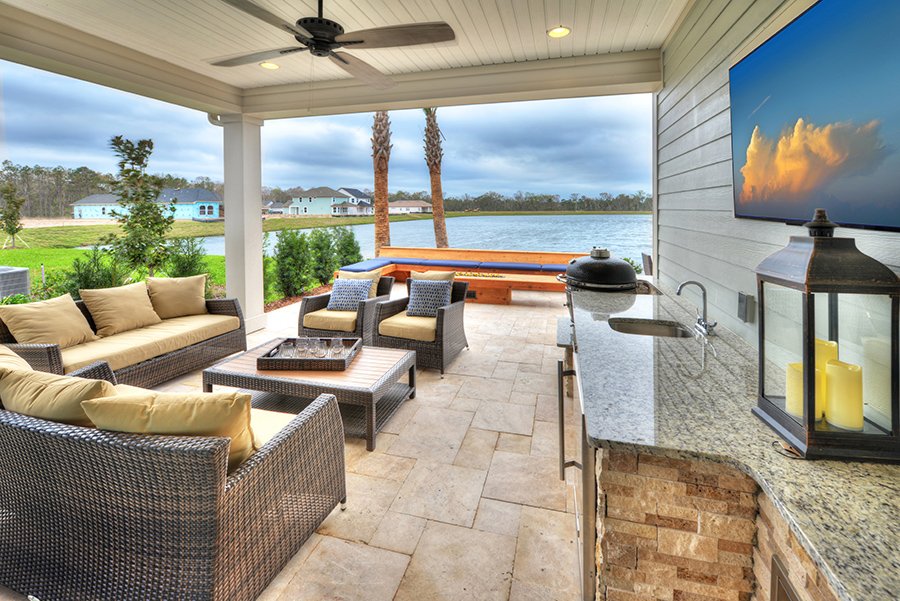 At our Monroe model, we've designed the outdoor living area to show you how useable it can be. There's outdoor seating, a dining table, cabinets topped by a counter and a sink, plus a built-in spot for a grill.
Okay, drag yourself back through those simple, triple-glass-door sliders and make an immediate left.
The owners suite is tucked at the back too, away from hubbub areas. It overlooks the same tranquil pond and features a spacious, two sink-bathroom with a standard walk-in spa shower and large walk-in closet.
But wait, there's more
The open railing along the staircase and upstairs, also comes standard. It's usually a knee wall for many builders.
Nine-foot ceilings and six-foot, eight-inch doors make the second level as spacious as the first. Four bedrooms and a full bath are cozy, yet welcoming. The back bedroom even commands a water view.
Let the kids or guests fight over who gets that one!
Ready for your Crosswater lifestyle? Talk to ICI Homes here.