Are you building a new custom Florida home with us in Nocatee? Did you recently buy one of our new inventory homes here? If so, you might not know one of the United States' most historic metro areas is only a few miles and minutes south of your new Nocatee neighborhood.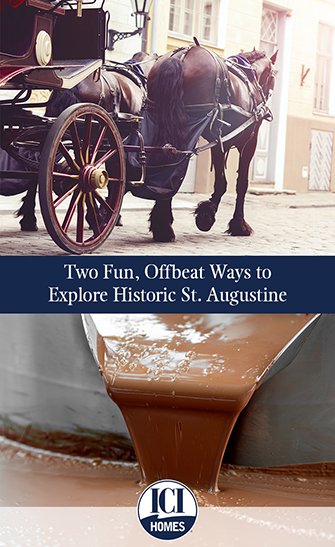 St. Augustine was founded in 1565 by Spanish explorer Don Pedro Menéndez de Avilés and is popularly known as the "nation's oldest city." To paraphrase its official website, the city is the "oldest continually occupied" European-and-Afro-American-originated settlement in the U.S.
That legacy continues today. St. Augustine remains a vibrant place to visit and explore, and we at ICI Homes encourage you to do so. The city's historical core is very walkable, and one significant site and experience follows another — sometimes within the same block.
St. Augustine also packs art, cultural events and entertainment of all sorts into its venerable square footage. There's no shortage of selfie-worthy experiences. So, when you need a break from history, sample these fun, offbeat St. Augustine tours.
Where to find it
St. Augustine is a quick commute for Nocatee residents — approximately 19 miles and 30 minutes south. The quickest route is driving Interstate 95 south to Exit 318, where you'll turn left onto State Road 16 and head east.
The more leisurely and scenic route is south on A1A, Florida's Atlantic Coast highway. You'll need more time, but there's no denying the jaw-dropping natural vistas.
If you're a first-time visitor, the city's municipal deck ($15 per vehicle) near the historic district is the easiest solution. It's next to the visitors center and within walking distance of everything.
Calling all chocoholics
Pub crawls and food and drink festivals are de rigor in St. Augustine. Its rich culinary heritage and current scene provide no end of bites and sips to sample.
But Nocatee-resident chocoholics should head to Whetstone Chocolates, where a tour ends with free samples. Whetstone Chocolates is located at 139 King Street. Run, don't walk!
Seriously, the family-owned company has been in business since 1967, and touring its factory gives visitors the yummy, behind-the-scenes scoop on how all those glistening sweets end up in tempting storefront displays and gift boxes.
St. Augustine tours
A chocolate tour is only one option here. St. Augustine visitors can choose between ghost tours, food tours, trolley tours, boat tours — you get the picture. There's so much history and so many ways to experience it, that choosing a method can be difficult.
If you prefer a non-motorized option, a carriage ride or tour just might be the ticket. It allows you to see the city the way residents and visitors did before the automobile. Gently glide along behind the clip-clop of horses' hooves while your driver or guide regales you with tales.
Selfie win? Check!
Ready for your Nocatee lifestyle? Talk to ICI Homes here.