Interested in a new custom Florida home in metro Jacksonville? One with ginormous amenities and location? Nocatee, one of the U.S.'s top-selling master-planned communities, is perfectly positioned just south of Jacksonville. Its neighborhoods appeal to all sorts of home buyers, but one Nocatee neighborhood — Timberland Ridge — is a bit of a hidden treasure.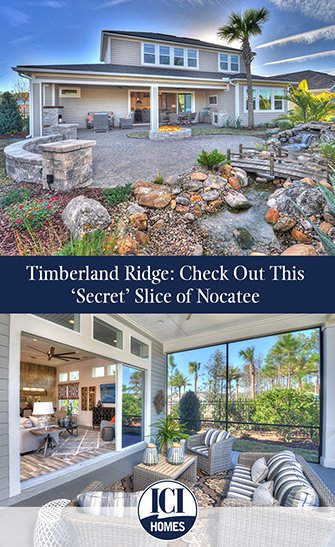 Tucked in Nocatee's northwest quadrant, Timberland Ridge is a serene setting convenient to the community's amenities, but nestled among pristine woodlands and a peaceful vibe. As one of Nocatee's preferred builders, we're active in six of its neighborhoods as of this writing, but admit Timberland Ridge is worth a special look.
Its unique siting and atmosphere might fit your parameters for a new custom Florida home. So come check out this "secret" slice of Nocatee.
Timberland Ridge's location advantage
Timberland Ridge is in the Duval County portion of Nocatee. Nocatee straddles Duval in its northern neighborhoods and St. Johns County in its southern neighborhoods.
Duval County is Jacksonville's home county, which means Timberland's residents are closer to the metro area's cultural, sports and civic experiences. That location also puts residents within minutes of Interstate 95 to the west, and Atlantic beaches to the east.
It's also effortless to come and go from your new custom Timberland Ridge home without having to traverse large sections of other Nocatee neighborhoods — and its Town Center and business districts — in order to reach your destination.
This tucked-away siting has another advantage: serenity.
But when you're ready for community fun, hop on a bicycle, skateboard or electric cart and be at Twenty Mile Park or Cypress Park in minutes. They're the nearest (like, super-near) Nocatee resident parks to Timberland Ridge and supply swimming pools, event lawns, pavilions, sports fields, dog parks and playgrounds.
Timberland Ridge has its own amenities — a fenced-in dog park and a children's playground. Spacious sidewalks make strolling and carting the neighborhood easy, and connect Timberland Ridge residents with their neighbors in nearby Cypress Tails and other Nocatee neighborhoods.
Build with us at Timberland Ridge
ICI Homes has you covered here with 50- and 60-foot lots and plenty of floor plans. Or, bring your ideas and allow our talented designers to customize a Nocatee home for you.
On 50-foot lots, choose among six floor plans ranging from 1,798 square feet (the one-level Monterey) to 2,562 square feet (the two-level Palisade). On 60-foot lots, choose among five plans ranging from 2,446 square feet (the one-level Emma) to 3,196 square feet (the two-level Palos Verdes).
Ready for your Nocatee lifestyle? Talk to us here.